[raw]

We need your support!
In the time of the attack of the Turkish army and its jihadist allies we depend on your financial support. Activists of the Internationalist Commune are taking place at different places in the defense of the revolution. Our media team is preparing articles, videos and photos to share to the outside. If you want this work to continue please support us.


[/raw]
Fotokalendar 2020 – Kalender des Widerstands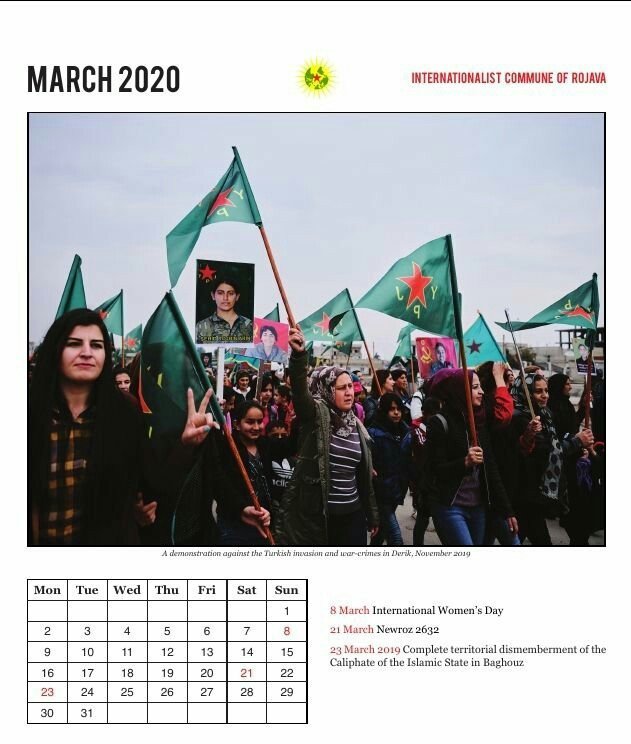 Zur Unterstützung der Kampagne Riseup4Rojava hat die Interationalistische Kommune von Rojava an einem Fotokalendar gearbeitet. Die Kalendar sind nun vor kurzem erschienen und sollten eigentlich auf Veranstaltungen, wie dem Newroz-Fest verkauft werden – stattdessen können jetzt Kalendar online bestellt werden. Mit den Einnahmen soll eine bald erscheinende Broschüre über den Widerstand in Girê Spî und Serêkaniyê finanziert werden.
Der Kalender orientiert sich an Newroz – er geht von März 2020 bis März 2021.
"Seit dem 9. Oktober 2019 leistet Rojava Widerstand gegen den erneuten Besatzungskrieg des faschistischen türkischen Staates. Als Internationalistische Kommune von Rojava haben wir Landschaft und Szenen dieser einzigartigen Revolution dokumentiert. Mit dem Kauf dieses Kalenders unterstützt ihr nicht nur den Druck einer bald erscheinenden Broschüre über den Widerstand sondern bringt auch 13 eindrucksvolle Bilder dieser Revolution zu euch nach Hause."
Neben weiteren Artikeln der Internationalistischen Kommune, kann der Kalender bei Black Mosquito bestellt werden.