[raw]

We need your support!
In the time of the attack of the Turkish army and its jihadist allies we depend on your financial support. Activists of the Internationalist Commune are taking place at different places in the defense of the revolution. Our media team is preparing articles, videos and photos to share to the outside. If you want this work to continue please support us.


[/raw]
Photo Calendar 2020 – Calendar of Resistance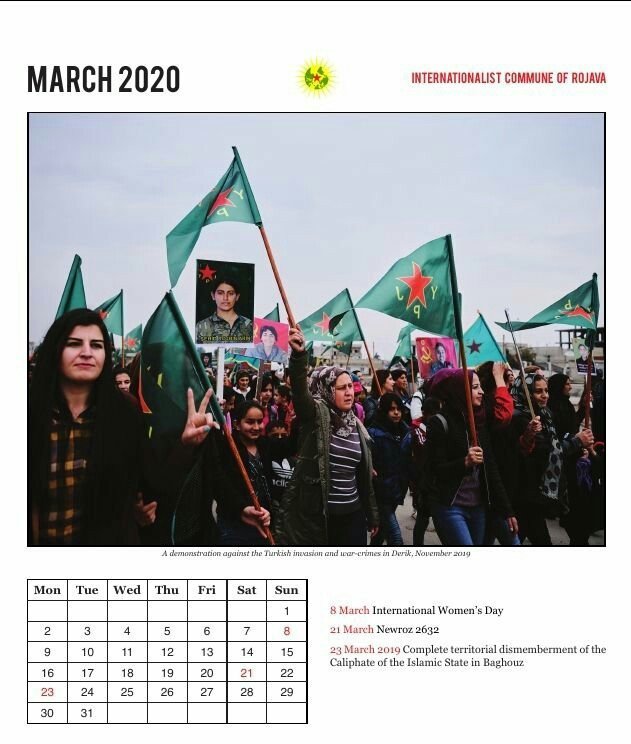 To support the campaign Riseup4Rojava, the Interationalist Community of Rojava has worked on a photo calendar. The calendars have now been published recently and should have been sold at events like the Newroz festival – instead, calendars can now be ordered online. The proceeds will be used to finance a soon to be published brochure about the resistance in Girê Spî and Serêkaniyê.
The calendar is based on Newroz – it runs from March 2020 to March 2021.
"Since October 9, 2019, Rojava has been resisting the renewed war of occupation of the fascist Turkish state. As the Internationalist Commune of Rojava we have documented the landscape and scenes of this unique revolution. By buying this calendar, you not only support the printing of a soon to be published brochure about the resistance but also bring 13 impressive pictures of this revolution to your home."
Among other articles of the Internationalist Commune, the calendar can be ordered at Black Mosquito.