For the Freedom of Rêber Apo – Join the struggle for Freedom!
"You must believe before everything else that the revolution must come, that there is no other choice."

Abdullah Öcalan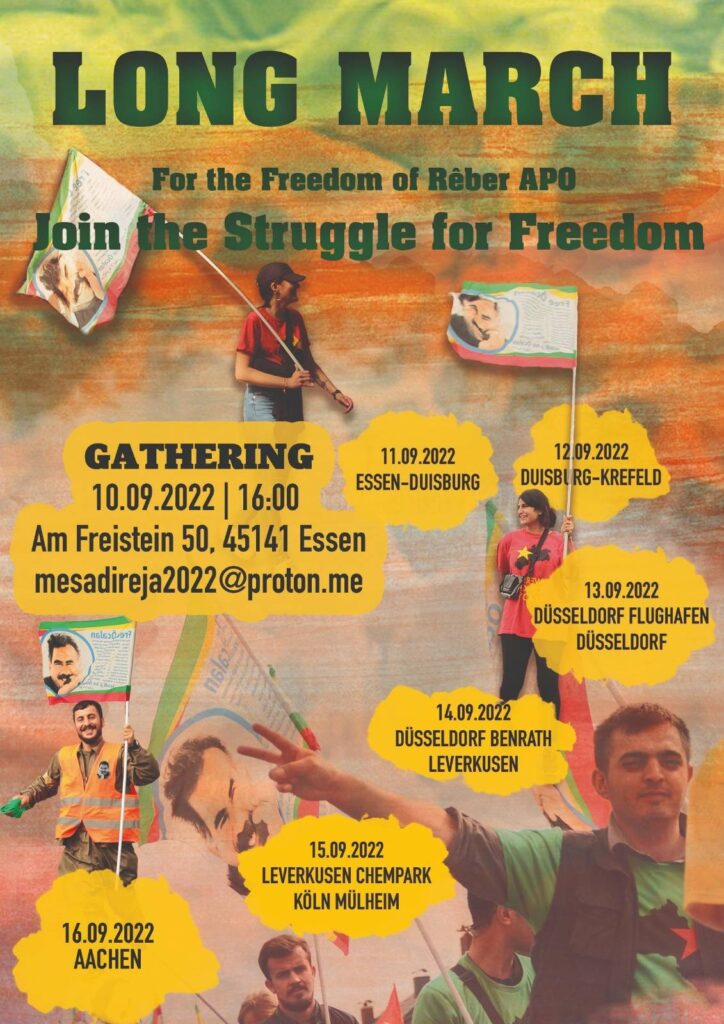 We call on all internationalists to join the long march from September 10- September 16. Under the slogan "For the freedom of Rêber Apo – Join the struggle for freedom" the march will go from Essen to Aachen.
Abdullah Öcalan has been in isolation on the prison island of Imrali for more than 23 years. Contact with his lawyers and family has been restricted and prevented for years. Through Öcalan's isolation, not only a single person but an entire people is criminalized and imprisoned.
Öcalan's isolation prevents a peaceful solution of the Kurdish question and the problems in the Middle East.
Every day we walk together from town to town and in this way we strengthen our will and build communal life. In the evenings there will be lectures, discussions or film screenings about the Kurdish freedom movement.
Program and information:
• Gathering, briefing and kick-off event on 9th September in Essen
•March from Essen to Duisburg on 11th September
• March from Duisburg to Krefeld on 12th September
•March from Düsseldorf Airport to Düsseldorf on 13th Septeber
•March from Düsseldorf Benrath to Leverkusen on 14th September
•March from Leverkusen Chempark to Köln Mülheim on 15th Sptember
• Demonstration in Aachen on 16th September

Accommodation will be provided, mostly in Kurdish families.
Sports or hiking shoes are suitable for the march.
For any questions contact @[email protected]
On Instagram and Twitter follow @2022mesadirej