Notes for a historic-subjective analysis on the construction and the evolution of the 'man' identity in the patriarchal society
The cultural construction of gender has been developed in different ways throughout history, and although all societies have gender cultural registries, not all of them have the concept of masculinity. A culture which does not treat women and men as bearers of polarised character types will hardly have a concept of masculinity in the sense it has in the modern western culture. However, the globalisation in which we currently live presents us with a model of masculinity which is universal, dominant and patriarchal. In this article, we will attempt to elucidate how this imaginary was originated, aiming at understanding how it evolved to our current reality.
The construction of the concept masculinity has followed different processes1, but nowadays it is associated with a series of social rules widely generalised: avoiding femininity; restricting emotions; chasing accomplishments and status; disconnecting sex from intimacy; performing aggressiveness, homophobia, etc. Man, as an identity, is constructed essentially on a relational basis, as opposed to the values attributed to the identity woman. In this binary logic, the male value is always placed in front and holds a positive value, conferring a negative value to its female opposite: strong-weak, brave-cowardly, rational-emotional, social-natural, productive-reproductive, shape-matter, public-private, active-passive, dominant-submissive, abuser-victim, etc.
We can also see how the concept of masculinity intersects not only with gender oppressions, but also with other oppressions such as race, class, age, etc. The "white male" has not been constructed only in relation to the "white woman", but also in relation to the "black man"2. By the same token, the effect the "rich man" or the "erudite man" have had on the development of masculinity has been different from that the "poor man" or the "illiterate man" have had. The "adult man" has also an identity which is differentiated from that of the "boy", the "young man" or the "old man". That is why an analysis with an intersectional perspective can help achieve a better understanding of this process. However, the element which most strongly conditions the conception of masculinity is, undoubtedly, the construction of the identities man-woman.
Gender roles are perceived as a hegemonic reality in contemporary societies. Despite the academic development of theories which question the division man-woman, and which are growing to find more and more support in biologic and sociological studies, those are theories which have a limited practical incidence beyond universities and small bubbles. It seems like analysing masculinity from the optics of queer theory does not help understand how it was originated, since those postmodern theories need of the man and woman subjects, built through history, to be postulated as antithesis. In order to understand how the meaning of masculinity has been configurated, it is important to look back to the river of human history.
I.The origins of patriarchy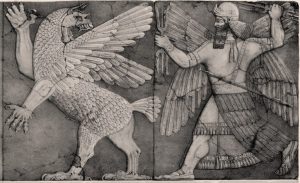 Most of the pre-state societies documented by anthropologists and explorers consist of communities of hundreds or thousands of individuals with minimal hierarchy. Since those were self-sufficiency societies, the main goals were feeding, procreation and community safety. This will of collective self-defence allowed the evolution of the species and the improvement of life quality. The fragmented communities died soon, since isolated individuals could not reproduce and did not serve the continuity of the species. This is the reason why many species of primates, humans among them, evolved till they became highly social species.
At an academic level, the cultural imaginary of masculinity starts with the division of work that many anthropological theories assume, within which men were hunters and women were gatherers. Before this division of work, we can imagine egalitarian societies where there were simply human people living together, sharing needs and resources. However, there was a crucial difference: the reproductive scenario. Some of these people had the ability to give birth, thus bringing new members to the community, while others did not. As time went on, that fundamental difference generated a cultural accumulation that determined what we now understand as man and as woman, being the man the one without the ability to conceive.
It is, then, this reproductive scenario, and not so much the biological differences, that probably defined the differentiation which would grow up to become gender roles. At some point after the establishment of this division, processes of hierarchical organisation and oppression of men over women started, constructing what we currently know as patriarchy. Anthropological studies of known matriarchal or matriphocal societies show that patriarchy is not something intrinsic to the human species, but it is currently almost an absolute.
When we analyse societies previous to the state structures, we lack written documents that indicate how those societies functioned, so archaeological research is the main source of knowledge on which we rely. However, even though archaeological remains give hints to know those communities, they offer only a fragmented and incomplete image based on the elements that are found. Studying the recovered vestiges, we can imagine ancient societies3, but each new discovery might bring crucial information that would question everything that was previously imagined.
With the knowledge that has been accumulated till now, we can confirm that no state societies were born outside the patriarchal dominations, although the records of the first state societies we know are around 5.000 years old, while the species Homo sapiens is some 200.000 years old. Knowing how humanity lived before the hegemony of state and patriarchy will help us understand how and why said system was established, but it looks obvious that this establishment was a progressive process, unequal in different regions. It is thus likely that different social models have arisen and interacted along history, but for different reasons the patriarchal system managed to impose itself against other forms of social organisation.
The Neolithic revolution
If there is a key moment in the history of humanity previous to state structures, it is undoubtedly the revolution that agriculture brought with itself. Analysing the conditions in which this phenomenon occurred may facilitate a better understanding of ancient communities and societies, and how man evolved within them.
It is easy to recognise that gregarious species such as our own require a high degree of communication among individuals, and we can imagine how human communities started to develop rudimentary protolanguages4. The beginning of language, together with the construction of abstract ideas, produces an increased social fluidity, allowing the creation the concepts man and woman. Probably, the nomadic communities previous to agriculture did not count on a clear differentiation of gender roles, although at some point they started to identify the relation between biological differences in bodies with the reproductive scenario. Those people born with a penis, unlike those born with a vagina, could not conceive or give birth, thus generating a first identity, differentiated based on sex5.
Bringing a new member to the community would undoubtedly be a reason for celebration, and probably pregnancy and labour would enjoy a mystical dimension, being cause for rituals and worship processes. Women giving birth would most likely get together to tend to the newborns, who required their attention and care for survival, thus generating a feeling of sisterhood between women. Those groups of mothers sharing knowledge and tasks would take up the centre of the community. While other members were able to lead a more nomadic lifestyle, centred in the task of searching for food, the group of women-mothers would require a more sedentary life. This would generate the appropriate conditions to discover the relation between the seeds of certain fruits and the plants that would grow and then generate those fruits again. This knowledge of the nature cycles would open the door for the agricultural processes that would shake up life for humanity. That allowed for the consolidation of sedentary communities, which would in time give way to villages, towns, and what we currently understand as civilisation.
Analysing archaeological remains, we can see that the first villages were constructions of limited dimensions, without walls or defensive structures. Those would probably be used as living spaces to keep from atmospheric conditions, and they would also be useful for stocking seeds and other resources. The land exploitation that agriculture brought with it produced excess, and thus the first known processes of accumulation. It is likely that said accumulation was managed by the group of women-mothers, based on a model of matriarchal society and a communal economy, destined to ensure the well-being and survival of the community.
Another revolutionary process that came with the beginning of agriculture was the beginning of cattle raising. This domestication and exploitation of non-human animals probably brought with it two key discoveries for the consolidation of patriarchy: fatherhood and birth rate control. We can imagine how, through the observation of non-human animals, human animals were able to better understand the relationship between sexuality, pregnancy and labour, together with the role of the male in the reproductive scenario. The birth control strategies that were applied on cattle an other domestic female animals allowed to imagine birth control in women too. And ruling over animals, perceived as a resource that could be submitted and exploited, allowed men to conceive domination and exploitation of women, opening the door to the creation of patriarchal clans.
The institutionalisation of patriarchal violence
The hunters groups, which we imagine mainly constituted by men, fought against animals that would try to defend themselves, probably causing wounds or even the death of some of the group members. These risk situations, with the adrenaline and the excitement of combat they entailed, would confer a mystical dimension to hunting, which would become cause for rituals and worship processes. The combat experiences and the feeling of victory when a hunting expedition was successful would produce feelings of brotherhood between men. The development of an increased aggressiveness, together with strategies to defeat the enemy through the strength of the group would be greatly useful for the community to be able to hunt animals of a larger size. With time and accumulated experience, together with the surge of natural leaderships that would make hunting more efficient, there would surge command structures and hierarchies, which would become primitive military strategies.
At some point, the military logic of the man-warrior was brought to the sedentary settlements, making them the target of attacks directed at obtaining the food that was stocked there. The villages that suffered those raids were then in need to build walls and defensive structures to survive. That process of delimitation and enclosement of the land that walls implied might have been the beginning of the feelings of possession and ownership, which together with the processes of accumulation of excess, opened the door to the capitalistic narrative that would take control of the human mentality. Besides, the development and perfection of military tactics, originated in hunting but useful for combat against other human groups, allowed creating communities that depended on raiding to obtain food. If we imagine those communities as men groups, it is likely that those perceived the women in other communities as resources, so without them the clan was not able to reprocuce itself and gets extinguished. Probably this situation supposed a sistematization of violence against women, based on kidnap and rape, objectivaizing and taking over control over their bodies.
We can then imagine the specialisation of gender roles that followed the Neolithic revolution, where "the man" was focused on tasks related to violence (be it hunting or raiding, or maybe in defensive garrisons to protect their villages), while "the woman" went from a position of managing and providing care at the centre of the community to being subdued and displaced to a defensive survival position. The discovery of fatherhood would probably increase jealousy and phobia of men towards other men, initiating a process of redefining the sexuality based on property. In order to ensure that the offspring of a certain woman was produced by their seed, they would intend to limit the relationships that she could have with other men, restricting her freedom of movement and using violence against her and other men that came close to her. This would entail an increased social conflict, with fights and arguments on access to women.
It is likely that, in these violence conditions, the woman-mother (with a child in her care and isolated from the group of women-mothers) would be highly dependent in terms of protection, which would be provided by the man-warrior in exchange of sex and care for his offspring. That violence was probably channelled in different ways in different communities, with solutions such as creating hierarchies where only strong men were allowed to have relationships with women, or the institutionalisation of monogamous or polygamous structures where men established relationships of ownership of women, thus building the basis of what would become marriage.
It can be noted that everything that has been commented till here are merely assumptions. We are discussing a period of time that comprises thousands of years, and a large number of human communities that were extended through ample and diverse lands, often with limited relations among themselves. It is likely that the order of the "discoveries" and the way they interacted with each other varied largely between societies.The only thing we can imagine with some certainty is that, bit by bit, a civilisation model was forged based on male domination.
With time and demographic growth of those communities, the interactions between people that were expanding their reach in the same land were unavoidable. Those clans which had more efficient military bodies prevailed, and those communities with a lesser ability to self-defence were extinguished. War fostered the construction of the identity man as opposed to the identity woman, deriving in structures and institutions of domination based on different use of violence, which would be the basis of what we currently understand as patriarchy.
Avjîn Azadî
---