"Help bring a new world into being in Rojava. And spread its vision: that a free, ecological society is possible everywhere." – Debbie Bookchin
In the beginning of this year, we started the campaign "Make Rojava Green Again" together with the responsible entities within the self-administration for the ecological work. Several initial ecological projects, mainly the creation of a tree nursery, are in progress.
But an important part of the work has consisted of reflection about the meaning of ecology in the Rojava Revolution, and what an ecologic and democratic society can look like. Besides theoretical discussion, we made research about the ecological situation in Rojava and thought about perspectives and solutions based on our experiences here in the region.
There is hardly any information available about how the ecological society is being built up here, so we want to share the result of this research in a book. In order to realize this project, we need the support of as many people as possible.
If we raise enough funds to print the book at an affordable price, it will be available in bookshops around the UK, to be ordered online across the globe, and to be downloaded for free. Initially the book will be only available in English. But we are working already on a Spanish, French, German, Italian, Turkish and Swedish version. Later on, more translations will be available.
In order to realize this project, we need the support of as many people as possible. Therefore we would like to invite you to contribute to and share our crowdfunding campaign at:
http://www.crowdfunder.co.uk/make-rojava-green-again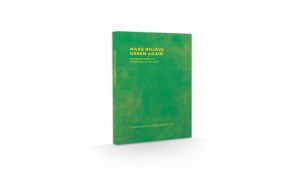 The book starts off with a foreword by Debbie Bookchin, an introduction by the Internationalist Commune and an ideological introduction to the ideas of social ecology. After going through the different ecological problems in Rojava we present how we plan to support the resolution of these problems with the "Make Rojava Green Again" campaign.
You can find here a small impression of the book.
We would like to use the chance in order to thank all the people who contributed to make this book project possible, and give a special thanks to Dog Press Section whose work and support have been greatly appreciated, along with all of the translators.
The book should inspire the building up of an ecological society, not only in Rojava, but all around the world.
"The ecological question is fundamentally solved as the system is repressed and a socialist social system develops. That does not mean you can not do something for the environment right away. On the contrary, it is necessary to combine the fight for the environment with the struggle for a general social revolution…" Abdullah Öcalan