We need your support!
In the time of the attack of the Turkish army and its jihadist allies we depend on your financial support. Activists of the Internationalist Commune are taking place at different places in the defense of the revolution. Our media team is preparing articles, videos and photos to share to the outside. If you want this work to continue please support us.
Kuzeydoğu Suriye devrimi kazanacak, faşizm ezilecek!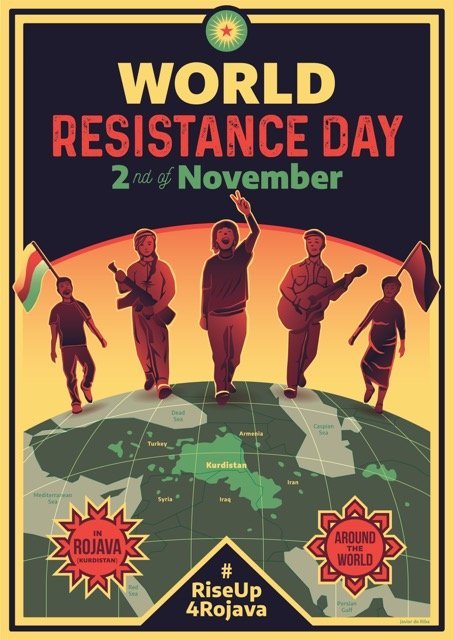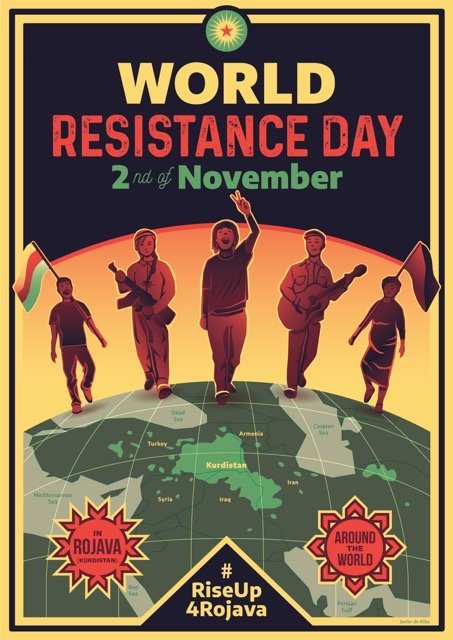 9 Ekim saat 16: 00'da, Türk işgal ordusu ve İslamcı müttefikleri, Suriye'nin kuzeyindeki kurtarılmış bölgelere karşı uzun süredir hazırladıkları saldırganlık savaşını başlattılar.
Saat tam 16:00'da sınırdaki kasaba ve köylerdeki insanların üzerine bombalar yağdı. Cihatçı milisler, Türk ordusunun öncülüğünde ilerlemeye başladılar ve sınır bölgesine girmeye çalıştılar. Türkiye, "sınır koruma harekâtı" hedefli ve "barış koridoru" kurmaya yönelik bir "askeri operasyon" dan bahsediyor, ancak gerçek şu ki, Türk ordusunun ve emri altındaki İslamcı paralı askerlerin çoğunluğu Kürt olan insanların yaşadığı Türkiye-Suriye sınırı boyundaki tüm bölgeyi işgal etmekten başka bir amaçları yok. Ankara'daki rejim "terörle mücadele"den bahsediyor ve saldırganlık savaşlarının sivil nüfusa yönelik bir savaş olmadığını vurguluyor, ancak sivil yerleşim yerlerinin rastgele bombalanması, yağmalamalar ve yüz binlerce insanın kitlesel sürgünleri, keyfi idamlar ve yüzlerce sivilin acımasızca kaçırılması farklı bir dil konuşuyor. Kuzey Suriye'ye karşı savaş ilerledikçe, Erdoğan'ın gerçekten ne mal olduğu da o kadar netleşiyor, yani milyonlarca insanın şiddet yoluyla sürgüne zorlanması ve tüm bölgenin uzun vadeli demografik değişimi yoluyla etnik temizlik yapılması.
Suriye'nin kuzeyinde, Suriye iç savaşının gölgesinde, son yedi yılda bölgenin güçleri ve emperyalist devletlerinin başına baştan beri çıban olan bir devrimci ve demokratik sosyal proje gelişti. Kuzeydoğu Suriye toplumları, kendi öz yönetimlerini kurdular ve yerel nüfusun tüm gruplarının eşitlikle bir arada yaşamasına, kadın özgürlüğüne, ekolojik bir ekonomiye ve radikal demokrasiye dayanan bir barış vahası yarattılar. Kuzeydoğu Suriye Demokratik Federasyonu, yerel despotizm ve dış yönetimin ötesinde, Orta Doğu için barışçı ve demokratik bir geleceğin canlı bir örneği haline geldi. Son olarak, kuzeydoğudaki Suriye halkının savunma kuvvetleri, Suriye Demokratik Güçleri, Türkiye dayanaklı İD hilafetinin son kalıntılarını ezmeyi başardı.
Bugün, çoğu İslam Devleti ve El Kaide savaşçısı olan İslamcı milisler, Suriye'nin kuzeyindeki Türk saldırısı ve işgali ile tekrar ilerliyor, korku ve terör saçıyorlar. En başta ABD olmak üzere Uluslararası Koalisyonun devletleri, birliklerinin eşgüdümlü geri çekilmesiyle birlikte Türk saldırganlık savaşının yolunu açtı. Eski müttefiklerini yıkıma terk ettiler ve kuzeydoğu Suriye halklarını kirli çıkarlarına feda ettiler. Türk işgal ordusu ve cihatçıları NATO silahlarıyla soykırım gerçekleştirirken, dünya devletleri gözlerini kapatmayı karar verdi.
Ama biz bugün dünyanın gözü önünde meydana gelen katliamları sessizce durarak izlemeyeceğiz. Yalnızca geniş ve dirençli bir savaş karşıtı hareket bu savaşı durdurabilir. Tıpkı dünyanın dört bir yanındaki insanlar nasıl Vietnam Savaşı'na veya ABD'nin 2003'te Irak'a saldırısına karşı sokaklara döküldülerse, insanlığın vicdanı, Suriye'nin kuzeyindeki Türk barbarlığı karşısında bugün isyan ederek ayağa kalkmalı.
1 Kasım 2014'te, dünyanın dört bir yanındaki milyonlarca insan Kobanê'nin kahramanca direnişiyle dayanışmalarını ifade etmek için bütün gün sokaklara döküldü. Biz bu yılki 2 Kasım'ı Türk Saldırı Savaşına karşı küresel bir direniş günü yapmaya, normal durumu sarsmaya ve hayatı felç etmeye çağırıyoruz. Yaratıcı ve çeşitli sivil itaatsizlik eylemlerine, gösterilere ve daha birçok eylemlere katılın, sokakları ve kamu alanlarını ele geçirin. Cinayetler devam ettiği sürece direnişimiz durmamalı.
Kuzeydoğu Suriye devrimi kazanacak, faşizm ezilecek!