Along with the People's Defense Units (YPG), Jack Holmes tirelessly participated in eight military operations against ISIS terrorists in Rojava, northern Syria, including the campaign to liberate Raqqa.
The city of Raqqa was officially liberated from ISIS on October 20, 2017, yet Jack who has the Kurdish nom-de-guerre Şoreş Amanos, insisted to stay in the city and support mine-clearing actions, so civilians could safely return home.
On October 23, while helping with clearing efforts, Jack was martyred as result of a mine explosion.
Official Kurdish Statement: https://goo.gl/m699cF
https://www.youtube.com/watch?v=9YOnqPSCgv8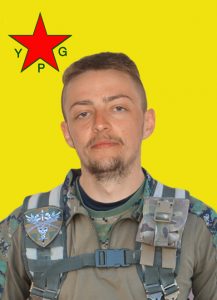 Nom-de-guerre: Şoreş Amanos
Name: Jack Holmes
Mother's name: Angela
Father's name: Peter
Place of birth: England, 18 Çile 1993
In YPG since: 2015
Place and date of martyrdom: Raqqa 23-10-2017