She was born in January 1981 in Ankara. Her family was originally from Agean region of Turkey. She left her studies in Ankara University Sociology Department in her last year. During her university studies she met Kurds and the Kurdish freedom movement. She participated in different student movements. At the same time she participated in women´s freedom movement work and also stayed in prison for a short time. Afterwards she moved to Europe where she took part in the works of the women´s freedom movement until the spring of 2005. After going to Southern Kurdistan in the same year, Amara passed away because of a traffic accident on 31st of May in Qeladize. Together with her, her friend from Germany Uta Schneiderbanger (Şehîd Nudem) also lost her life.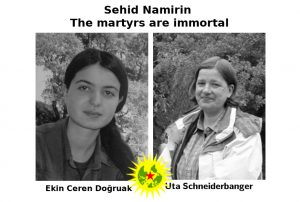 We want to share these words of friends who met Amara.
Demet: I met her in 2000 in Peace Culture Center during a meeting of the Women's Commission. Ceren was sent as the representative of the party´s women branch. I was very impressed by her during the meeting. She was not only physically beatiful but also had a beatiful heart and mind. She was always excited, curious and able to catch everything at the same time. You could talk to her about anything. Even she did not accept something, she would try to understand. She loved listening to people as well as talking. She always had something to say and you would not get bored with her.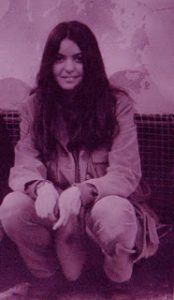 She spent her life in Ankara but was in love with Istanbul. Many times, after a tiring day we went to Sakarya Street in Ankara and ate sunflower seeds next to our conversations either near the pool on the square or in the tea house at the corner. Now this pool is not there anymore. We mostly talked about political agenda, how our day was or about the random people on the street. We laughed a lot during those times.
We all came to Ankara to study from different cities, only her family was from Ankara. Therefore we went to their home quite often. We stayed in her room for hours and laughed a lot. She loved fried potatoes so much.
Once we went to Munzur Festival. Everybody was very excited, but she was the most excited one. It was her first time in Dersim. We were looking forward to see not only the natural beauties of Dersim but also other beauties. We looked at the mountains always. We were hoping in the stunning mountains of Dersim seeing some "friends".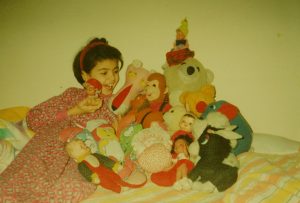 Özgün: We were good friends with Ceren because our homes were far from school and we shared the school bus every day. I do not remember how and when exactly she came to my life. I wish I could remember the face of child Ceren. It was the year 1986, we were creating games for ourselves on the boring way to home from school. One of our games was counting how many hair we had. We counted until some thousands and we were promising to each other to continue counting next day. After being seperated some years, we met again during the high school.
We shared everything, we did not spend a day without each other. We wrote letters to each other during the times of lecture where we could not speak. Even we had money we shared the same sandwich, we shared a common budget. We cut each other´s hair and slept in the same bed.
We spoke about philosophy and life. We always wrote future stories for each other. We shared our families, homes and friends so much that I started to feel at home in Ceren´s home. She was never like a guest in our home. We were so excited to learn new things. We went to bookstores to read the books secretly when we could not afford . Every day we read some pages from the same book. I was confused but she was able to read 3-4 books at the same time. We hold hands and went to demonstrations together in our school uniforms. We thought we did big and important things at that age.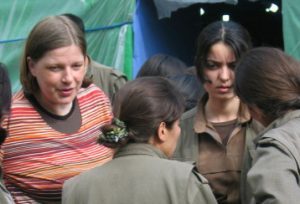 Zilan: We met through a little handmade bracelet sent from the mountains. It made her so happy. First I was surprised by her beauty. She knew how to love and how to believe without any preconditions. Second time I met her in the youth camp. I went to Paris, met her at the station. She had the green pullover her mother made and a green scarf.
She had another work than mine but we always found a way to combine our works. In the evenings we stayed together and talked until late hours. Once I was trying to teach her how to free ride in the metro, by following other people with tickets. But she was able to jump over the gates with her tall legs. Every morning we bought two croissants. Our days were always different from each other, we found beauty and happiness from the difficulties in life. What brought her to this struggle was her strong sense of empathy.
One day we wandered all around Paris. I thought Paris was all about the street of our association. She took me out of this street and show the other face of Paris which everyone admires. It turned out that she learnt every street of Paris. Thanks to her I overcame my prejudices about many different people and loved them. Ceren took everyone to her heart and set them free there. Only thing she could not stand was jealousy. She also had a deep love for Kurdish people. One day we were going to a house visit in Paris. It was a house she visited quite often but we had a very deep conversation on the way and realized that we were lost. But we were too proud to accept we were lost. At the end she decided to call the family, but still did not want to accept she was lost and decided to say : "Hello heval! They put a forest here!"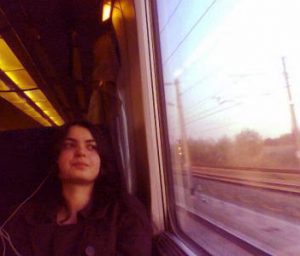 Ceren loved Heval Erdal a lot. After one year of his falling Sehid (martyr) in the dark year of 2004, we watched his funeral on television. Whole Kurdistan embraced his body from one corner to another. Ceren said then, she was really impressed: "Such a loyalty. I wish my funeral is also done in this way" she said. After one year, people took her body from the border and embraced in every town it went through. The funeral reminded me the funeral of heval Erdal. She was sent in the way she wanted to, the Kurdish society which she did not hesitate to sacrifice her life for, embraced her.
Amargi Gabar: When she was in Europe she could not hide her longing for the country anymore. She said: "I miss everything so much. I hate this concrete jungle country with a shitty weather. It is a semi open prison. In the prison it was rectangular. Here it is polygonal. Nothing smells here. You think you have a flu all the time. I am even tired of the watermelon sold in slices, the cucumbers at the size of my arm. I am very bored from this country. From the gray sky, from the acidic water, even though I never drink it. My feet never touches the earth. This year I never saw the sea. After the rain it does not smell like sea. It is impossible to prove that those red things we eat are tomaotes. I missed my country a lot. One understands what being patriotic means after being apart from the country".
She participated in the works actively in Europe. In this time, the longing for the mountains intensly gathered inside of her. Being on the mountains, fighting there as a militant of Apo became her biggest wish and desire. She continued her work with the women's movement in Europe until 2005 and then left for going to Kurdistan mountains in same year.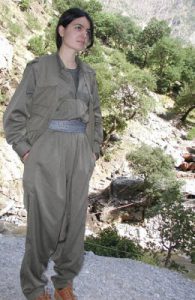 Her comrade tells the story, when it is asked to Amara "What comes to your mind as definition of a PKK fighter?" she answered in a surprisingly kind and honest way. She said: "Humble people full of love". Her friend emphasized how she defined the guerillas, as searchers for a free life in such a simple and understandable way and continued: "Almost every one made a definition for militants of free life. Enemy, terrorist, seperatist, bandit. Against that, some called them angel, hero, brave and many people called them freedom fighter. Amara´s definition was also this. Maybe this is why she was so connected to the guerilla, to the mountains and to the life on the mountains."
We passed through a time with Amara. The pain of her leaving is still in our hearts, on top of our chest. When we are asking to the night what to say, we want to get lost in the sea of stars. Maybe we will reach you in the deepness of space. Whatever we do, something will be missing. The words, the pencils, the notebooks will not be enough. Our voices are gone. But we embrace the winds of the mountains with the enthusiasm of being with you. Once you put your hope into those wind. When you were breathless among the concrete piles, the winds smelling like mother were gathering in you. Whatever is said, you belonged to these holy places. Maybe because of this belonging, you were fitting to those mountains, as well as the flowers of the mountains fitting to you.
Now we are in the future. The people are singing the victory songs of your life. We see with your eyes. Those humble people with full of love are raising you and your love in their hearts. They carry your hopes. Now PKK fighters are living you. They ripped of the dark ages, dirty words and reached to sunny, bright days. It was a solid example of faith and loyalty. Especially the loyalty to the promise given to the comrades. We were never obligated to. It was a choice. Yours, ours, a choice of free life.
You know there is no room for regretting in our lifes. But, we really wanted you to see these days. After big efforts of Reber Apo, the struggle of people for a communal free life gained more meaning. He managed the things noone dared to, no one could not approach and realized them in life. We, as the freedom militants of Reber Apo and your followers, walk with dedicated steps for your purposes. We have the enthusiasm of walking on the path you opened. Even though many comrades did not see you, they make you live in their hearts, loyal to your desires grow their aims.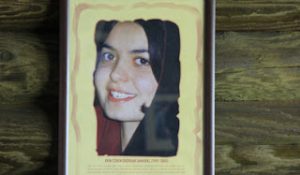 Going through the times full of you, there are tired stars and a late moon on the sky. We send all the laughter, longing, happiness and enthusiasm to you that we saved inside of the mountain wind. We skip the good bye and we salute you with a sincere ´hello´.
Hello, humble human with full of love. Hello the comrade of smiling sun. Hello the freedom star of Reber Apo. Hello the ground of common life for people.
We salute you, despite all the silence.
https://www.youtube.com/watch?v=QbyN0m_xaKU&t=152s