We need your support!
In the time of the attack of the Turkish army and its jihadist allies we depend on your financial support. Activists of the Internationalist Commune are taking place at different places in the defense of the revolution. Our media team is preparing articles, videos and photos to share to the outside. If you want this work to continue please support us.
La Rivoluzione in Siria Nord-Orientale vincerà, e il fascismo verrà sconfitto!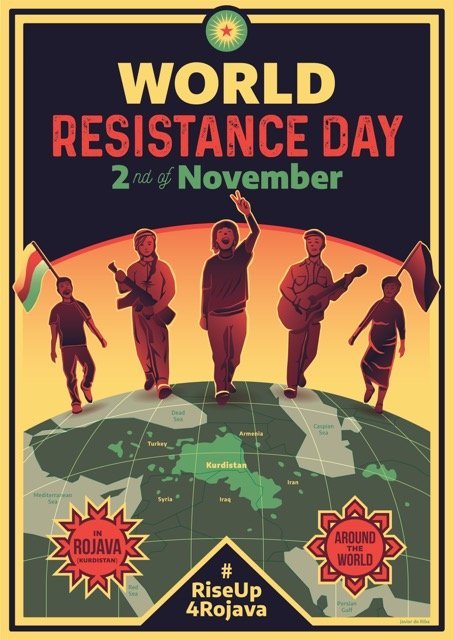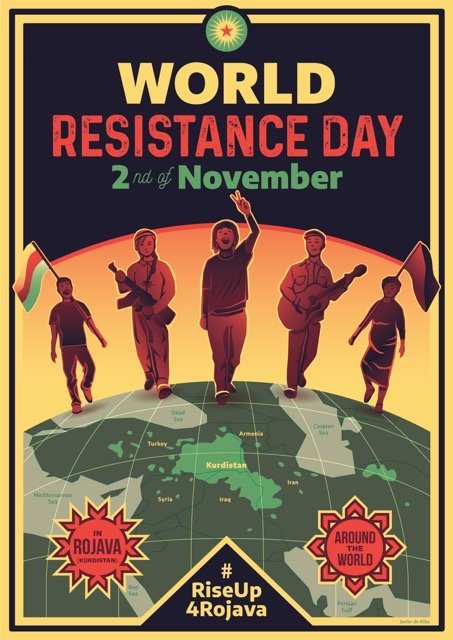 Il 9 Ottobre, alle 4 del pomeriggio, l'armata di occupazione Turca e i suoi alleati islamisti hanno cominciato la guerra di aggressione preparata ormai da tempo contro le zone liberate della Siria settentrionale.
Alle ore 16:00 del 9 Ottobre, le bombe caddero sulle persone nelle città e nei villaggi al confine. Le milizie Jihadiste hanno cominciato la loro avanzata guidate dall'esercito Turco e hanno provato a penetrare nella zona di confine. La Turchia parla di un'"operazione militare", orientata alla "messa in sicurezza" delle loro frontiere tramite un cosiddetto "corridoio di pace", ma in realtà l'esercito Turco, e i mercenari islamici alle loro dipendenze, sono interessati a occupare le zone prevalentemente abitate dal popolo Curdo lungo il confine Siriano-Turco.
Il regime di Ankara parla di "lotta contro il terrorismo" e dichiara che la sua guerra di aggressione non sia una guerra contro i civili, ma i bombardamenti indiscriminati sui villaggi, i saccheggi, le deportazioni di centinaia di migliaia di persone, le esecuzioni sommarie e il brutale rapimento di centinaia di civili rende chiaro quale sia la realtà. Mentre prosegue il conflitto contro la Siria settentrionale, Erdogan si mostra sempre più interessato alla pulizia etnica tramite l'espulsione violenta di milioni di abitanti e la colonizzazione a lungo termine di tutta la regione.
Nel Nord della Siria, tra le ombre della guerra civile siriana, è nato un progetto rivoluzionario, democratico e sociale che nel corso di questi sette anni è sempre stato la spina nel fianco delle potenze locali e degli stati imperialisti. Le comunità nel Nord-Est della Siria si sono autoorganizzate creando un'oasi di pace, fondata sulla coesistenza di tutti i gruppi etnici della popolazione locale, l'emancipazione della donna, un'economia ecologica e democrazia radicale. La Federazione Democratica della Siria Nord-Orientale è diventata esempio vivente di un futuro pacifico e democratico per il Medio Oriente, andando al di là dei dispotismi locali e il dominio straniero. Finalmente, le forze difensive dei popoli della Siria Nord-orientale, le Syrian Democratic Forces, sono riuscite a schiacciare gli ultimi rimasugli del califfato islamico ISIS, appoggiato dai Turchi.
Oggi le milizie Islamiste, di cui la maggior parte guerrieri dell'ISIS e di al-Qaeda, stanno di nuovo avanzando con l'occupazione Turca in Siria settentrionale seminando paura e terrore. Gli stati della Coalizione Internazionale, e soprattutto gli Stati Uniti d'America, hanno aperto la strada all'aggressione militare Turca con il ritiro coordinato delle loro truppe. Hanno tradito i loro alleati lasciando distruggere e sacrificare i popoli della Siria Nord-orientale per i loro sordidi interessi. Gli Stati del mondo hanno concordato di chiudere gli occhi mentre l'esercito di occupazione Turco e i suoi Jihadisti stanno commettendo un genocidio con armi della NATO.
Noi però non staremo fermi a guardare in silenzio i massacri quotidiani che stanno avvenendo e che il mondo guarda indifferente. Solo un ampio e forte movimento anti-militarista potrà fermare questa guerra. Proprio come le persone invadevano le piazze e le strade contro la guerra del Vietnam o l'invasione Americana in Iraq nel 2003, le coscienze dell'umanità dovranno risvegliarsi per ribellarsi alle barbarie Turche in Siria settentrionale.
Il 1 Novembre 2014 milioni di persone su tutto il globo sono scese in strada per esprimere la loro solidarietà con l'eroica resistenza di Kobanê. Il 2 Novembre di quest'anno vi chiamiamo ad unirvi alla opposizione mondiale contro la guerra di aggressione Turca, per spezzare la normalità e paralizzare la vita quotidiana. Create e partecipate ad azioni di disobbedienza civile, manifestazioni e tanto altro, e riempite le strade e gli spazi pubblici. Finché il massacro continuerà, la resistenza non dovrà morire.
La rivoluzione in Siria prevarrà, il fascismo verrà sconfitto!