Throughout Kurdistan and the Middle East, and finally around the world
Ronahî
"Everyone can become part of the revolution in Rojava. Of course, if you are a person who stands up for democracy, equality, justice and freedom. These values are the basis of the revolution in Rojava, values of humanity that have been lost in 5000 years of history. If we look at the system of capitalist modernity, the essence of being human has been lost. The revolution in Rojava is a renaissance of human values. It is a renaissance of the values of democracy, justice, freedom, equality. We are recreating these values and giving them back to humanity. This is exemplary for the whole world."[1]
Five years have passed since we lost the German revolutionary Kevin Jochim, who had taken the name Dilsoz Bahar in Kurdistan. Five years in which the revolution was carried forward, deepened and spread. Five years in which great battles were fought and thousands of valuable people sacrificed themselves for the defense of humanity in Kurdistan. I can imagine how these developments would have filled our friend Dilsoz Bahar with excitement. How excited he would have told me about the developments of the revolution. Dilsoz Bahar has grown with every step the revolution took. He had become united with the revolution in Kurdistan in a way as one might become part of a big plant or a tree. And with such a natural devotion, effort and care, he observed the developments all over Kurdistan, reported about them and also devoted himself to his own tasks in this revolution.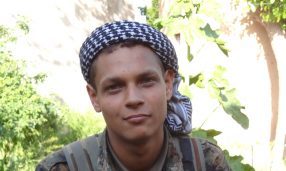 In this sense, Dilsoz Bahar had a broad and complex understanding of the revolutionary processes in the Middle East and he had developed a personality that made him a proud and serious actor in it. A personality in which real actions followed from insights. If someone from Europe had asked him why he had joined a freedom movement in arms in the Middle East, he would have explained his own decisions against the background of the ongoing "Third World War": In Europe, largely ignored and repressed, we are currently in a Third World War that is no different in scale from previous world wars. The centre of the Third World War is in the Middle East and is largely focused on Kurdistan. The actors involved in this global war of distribution try to control large areas in the region and to rule them according to their respective ideologies and world views. He explained: "I am a political youth and I do not close my eyes to developments in the world. As soon as I became aware of the importance and role of the Kurdish freedom movement, I decided to become a part of this struggle.
Dilsoz Bahar has lived and fought with this awareness. Every second of his life he tried to be a part of the movement for human values, for "freedom, democracy, justice and equality". If you spent only a few minutes with him, you were filled with his energy and his drive. If you shared a short conversation with him, he made you a part of his hope and fascinated you with his convinced attitude. As others told you about him, your imagination of what a person can create and achieve increased: He carried out every task he was given with great clarity; he overcame obstacles very quickly and was very dynamic. His efforts were also evident in the responsibility he was given at a young age. After he had already been given responsibility for a unit in the free mountains, he was in charge of the radio structure of an entire guerrilla area. In Rojava he took part in many fights against the Islamic state, and he was given the responsibility for a whole unit of international volunteers. In myself, my friend Dilsoz Bahar strengthened the belief in the collective power of the movement. When a person can develop so much in a short time and unfold his power and potential, it means freedom. It is the freedom that is so precious and created with such great sacrifice, a value that is greater than any word. It is a feeling that you are filled with. It is as tender and as strong as a big plant or a tree of which you are a part. It is a value, that you strengthen by the way you live every breath of your live. The value that you have created lives beyond your death.
We commemorate our precious friend Dilsoz Bahar and have the greatest respect for the effort he made for this revolution. His way of approaching and fulfilling life is an example for all of us and accompanies us on our way to become a part of this revolution – and in doing so, to constantly overcome and re-create ourselves anew, so that we can bring to life in ourselves the values that we want to oppose the darkness and emptiness of our time.
[1] From an interview with Dilsoz Bahar conducted in spring 2015 in Rojava. https://www.youtube.com/watch?v=OWSqrrZEHIk.