Şehîd Şahîn Qereçox (Farid Medjahed) arrived to Rojava in June 2018 to fight alongside the YPG and in the defense of their revolution against Daesh, the Turkish army and fascism. He came to this decision, having been involved in many struggles against a system that is bringing death to nature and the communal values of people. Also, he came to learn and share life with the comrades who are building up an alternative to the capitalist-state system and defending themselves against those who profit from it. Fighting Daesh on the front of Hajin (Deir al-Zour province) Heval Şahîn became martyr in an attack of the enemy on the 6th of October 2018.
We are carrying Şehîd Şahîns spirit of resistance forward. He is here amongst us, making us understand better the importance of an internationalist struggle, reminding us that though very different backgrounds have shaped us, our aim is one. His memory helps us to continue, because we know that our war is different from the enemies war. Why? Because we try to create life and celebrate it in everything we do. Fighting an armed struggle always goes together with living a communal life, with protecting nature and our freedom based principles. We try to live the life we are fighting for in the moment. This is the struggle Şahîn has joined. He inspires us – the ones that knew him and the ones that never got the chance to meet him – to always explore different ways of struggle, because our diversity in identity and approach nourishes a united path. It is a revolutionary path that we chose to follow, to shape as internationalists. With every tree we plant, every seed we grow, every song we dance to, every bullet we shoot – Şahîns lives on and with him all the other friends that have fought for freedom until the end. We want to work harder, to create more beauty, to listen to each other more, to educate ourselves and each other, to make them proud.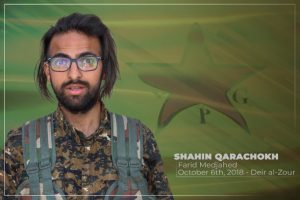 Our fallen comrades in the struggle for freedom never die.
Long live internationalism!
Long live the antifascist revolution in Kurdistan and everywhere!