We need your support!
In the time of the attack of the Turkish army and its jihadist allies we depend on your financial support. Activists of the Internationalist Commune are taking place at different places in the defense of the revolution. Our media team is preparing articles, videos and photos to share to the outside. If you want this work to continue please support us.
Revoluce v severovýchodní Sýrii zvítězí, fašismus se rozbije!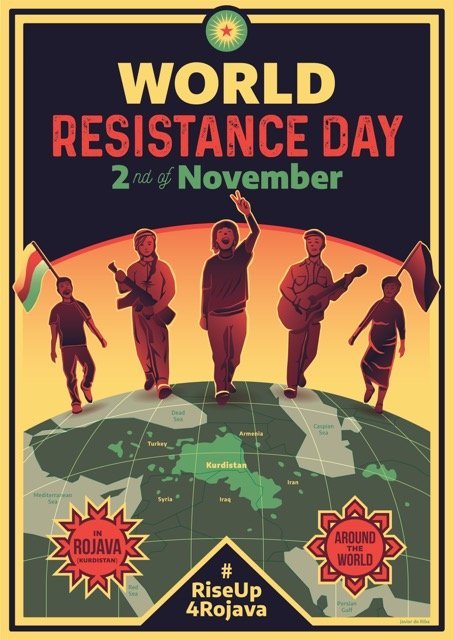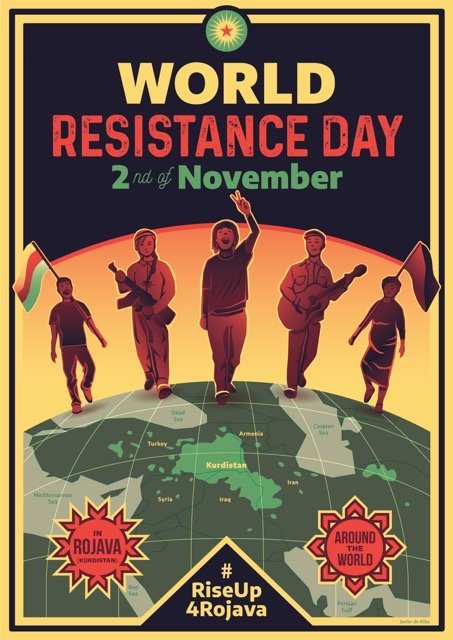 Ve čtyři hodiny odpoledne, 9. října 2019 zahájila turecká okupační vojska společně se svými islamistickými spojenci útok na osvobozená území v severní Sýrii.
Přesně ve čtyři hodiny odpoledne se na hlavy lidí v městech a vesnicích začaly sypat bomby. Džihádistické milice zahájily pod vedením turecké armády svůj postup a pokusily se proniknout do pohraniční oblasti. Turecko mluví o "vojenské operaci", jejímž cílem je "zajistit bezpečnost hranice" a vytvořit tzv. mírový koridor, ale ve skutečnosti nejde turecké armádě a jejím džihádistickým žoldákům o nic menšího, než o okupaci území na syrsko-turecké hranici, jehož obyvatelstvo tvoří z naprosté většiny Kurdové. Režim v Ankaře mluví o "boji proti terorismu" a zdůrazňuje, že jeho útočná válka není namířená proti civilnímu obyvatelstvu. Nicméně nerozlišující bombardování civilních usedlostí, rabování a masové deportace statisíců lidí, svévolné popravy a brutální únosy stovek civilistů hovoří o něčem jiném. Čím déle válka v severní Sýrii trvá, tím je jasnější, jaké jsou Erdoganovy záměry: etnické čištění prováděné násilným vyháněním milionů lidí a dlouhodobá demografická proměna celého regionu.
Ve stínu občanské války se na severu Sýrie posledních sedmi let dařilo revolučnímu a demokratickému sociálnímu projektu, který byl od samého počátku trnem v oku jak regionálním mocnostem, tak imperialistickým státům. Společnostem severní Sýrie se podařilo vytvořit svou vlastní samosprávu a oázu míru, která byla založená na rovném soužití všech skupin tamní populace, osvobození žen, ekologickém hospodářství a radikální demokracii. Demokratická federace severní Sýrie se stala živoucím příkladem mírové a demokratické budoucnosti Blízkého východu, daleko od dnešního despotismu a cizí nadvlády. Konečně, lidové obrané síly severovýchdoní Sýrie, Syrské demokratické síly, úspěšně rozdrtily poslední zbytky Tureckem podporovaného chalífátu Islámského státu.
Dnes, spolu s tureckou okupační armádou jsou opět na postupu i islamistické milice, které tvoří bojovníci Islámského státu a Al-Kajdy, a které rozsévají teror a utrpení. Státy mezinárodní koalice, především Spojené státy, vydláždily koordinovaným stažením svých sil cestu turecké agresi. Své bývalé spojence odsoudily k záhubě a obětovaly obyvatele severovýchodní Sýrie svým špinavým zájmům. Tyto státy se rozhodly zavřít oči před tím, jak Turecko a jeho džihádističtí spojenci páchají pomocí zbraní NATO genocidu.
Nebudeme mlčky stát a přihlížet masakru, který právě probíhá. Jen široké a vytrvalé protiválečné hnutí zastaví tuto válku. Stejně, jako když lidé vyšli do ulic proti válce ve Vietnamu, nebo invazi do Iráku v roce 2003, musí se i nyní, tváří v tvář tureckému barbarství, ozvat lidské svědomí.
1. listopadu 2014 se miliony lidí na celém světě zúčastnily demonstrací vyjadřujících solidaritu s hrdinným odporem města Kobanê. Nechť je letos 2. listopad globálním dnem akcí proti turecké invazi, nechť se zastaví běžný život. Zapojte se do nápaditých a různorodých akcí občanské neposlušnosti, demonstrací a vyjděme společně do ulic a do veřejného prostoru.
Dokud pokračuje zabíjení, musí pokračovat také odpor.