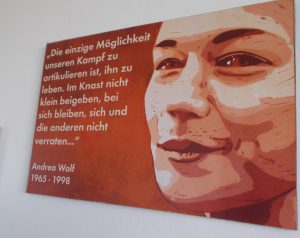 "The only way to articulate our struggle is to live it. In jail, do not give in, stay with yourself, do not betray yourself and the others".
Exactly twenty years ago, on 23.10.1998, our comrade Andrea Wolf, with the Kurdish name Ronahi, was killed with 23 more Kurdish freedom fighters by the Turkish military in the mountains of Northern Kurdistan. She came as an internationalist from Germany to the mountains of Kurdistan, in the search of perspectives for the revolutionary struggle for freedom.
Today it is up to us to take up the heritage she has left us behind and to bring her fight to an end, with the realization of her dreams, desires and yearnings. In this fight, the life of our martyrs continues, they become immortal. And that's why we took their names.
Thinking of Sehid Ronahi we want to release the video about her life, made by a "Circle of Friends of Andrea Wolf" once again, now with subtitles in French, Spanish and English.
And we also want to provide the subtitles of a portrait about the life of Andrea, produced by friends of the Kurdish movement, in English and German language.
In memory of the many who gave their lives in the fight. Sehid namirin – our martyrs are immortal.
"We bear their names" – In memory of Sehid Ronahi / Andrea Wolf from Internationalist Commune on Vimeo.