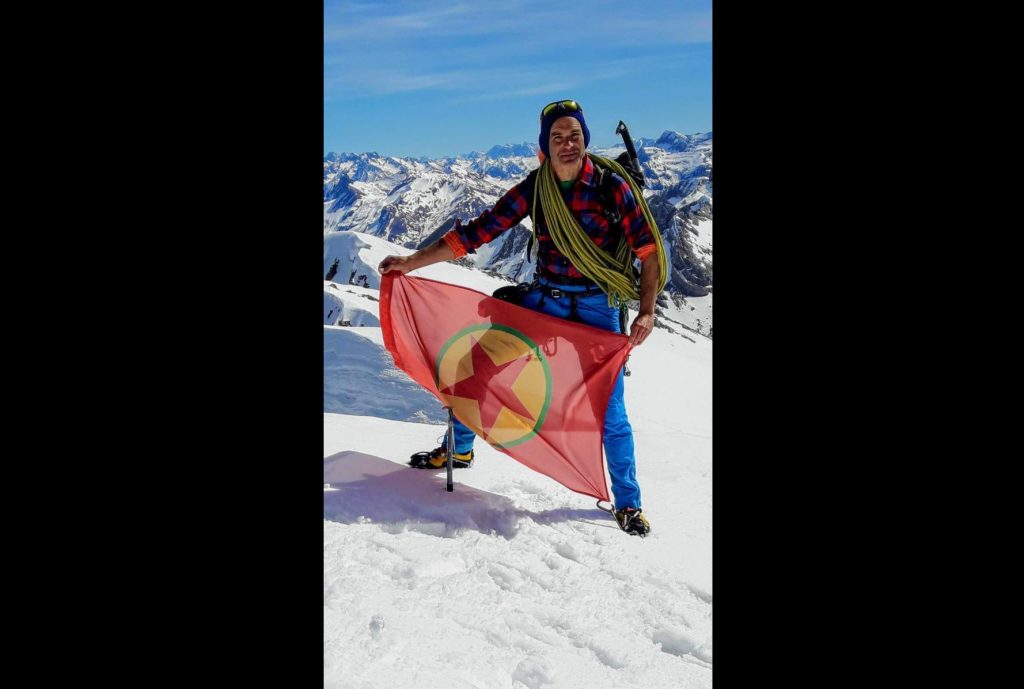 Those letters have been first published in Spanish onto the Rojava no está sola blog, then kindly translated to allow their publication in English that we reproduce here.
Letter 1:
Truly, it is really difficult to start this letter. No beginning is adequate to express the immense pain that comes with the death of a comrade, a friend, a great "Heval".
It's been more than a month since he left us, and it is still difficult to find the words to describe the emptiness left by this loss. It is still impossible to believe that he is no longer here, that his humble, loving and familiar presence won't be with us anymore. We can't help rejecting the idea, we can't accept that Heval Çîya, "Nano", is just a memory.
In the time that has passed since he left us, out of respect, we remained silent about it. We made this choice as we decided that broadcasting this news, as if it were an «exclusive», a chance to be in the limelight, is not part of our understanding of life, not how we live our lives. Neither is it part of how we understand death, nor was it Nano's way. We believe that the first moments, the first days, belong to mourning, especially family mourning. The family needs time and space for the farewell. We share our pain with the family, and we have to accept our place and our role at this difficult time. We, Nano's family and close friends, decided not to make a high-profile announcement nor to give much information out when he died. One of the reasons for this was that some media harassed Nano's family and circle of friends, seeking information and rumor for their press articles. Those media did not obtain an answer from us, and then they lied, made up, and manipulated the news. We do not forget.
Having allowed some time, for family, friends and comrades, Nano's memory is alive, and it is not just alive, but is with us and guides us. It could not be otherwise. From "Rojavanoestasola" we feel the need and duty to say farewell to our "Heval", to keep his memory alive, and to continue the revolutionary struggle in the pursuit of a better world. This is the best tribute we can give to our comrade.
Comrade and friend, Hevale Çîya:
On the 2nd of November last, we received the sad news that our friend had just lost his life during the descent of Himlung peak, in the Himalayan mountain range. The news pierced our hearts like a dagger, it stopped our breathing, it froze our blood. We could not believe it.
Nano, as his friends knew him, was a person with wide experience in the mountains. His love for nature and the mountains began in his teenage years.
Nano worked in different jobs throughout his life, but for the last few years he worked as a mountain guide, living in Aragües del Puerto, a village in the Aragonese Pyrenees Occidental Valleys area.
He also lived in Germany, where he worked as a climbing guide, specializing in a particular type of climbing which emplaces knots into the rock. This specific technique matched Nano's nature perfectly, as it calls for good judgement and nerves of steel.
In Aragon, he was a mountain guide, but his passion was rock-climbing. He knew every corner of the territory like the back of his hand, and his knowledge led to him writing articles for leading mountain magazines. Nano always gave his own point of view in his articles, linking the content to revolutionary ideas which thus reached the whole climbing community. I remember one of his articles in particular, about "Mallos de Agüero", in which he highlighted the historic significance of the area for the anti-fascist struggle and the guerrillas of the Maquis during the Franco regime.
After Nano's return from Kurdistan, he (like the rest of us) felt that there is a link between our mountains and those in Kurdistan. His Kurdish name was Çîya, which curiously enough means mountain. This connection which Nano felt between both territories was based to a large extent in the love he felt towards the revolutionary ideas which in the past found refuge here in our mountains, as they do now in Kurdistan. Nano paid tribute to this link, to this bond between both peoples, opening several climbing routes close to his home in memory of his "şehîd" (martyr) comrades in Rojava, giving the routes the names of those fighters.
Until the end of his life, he carried these ideas in his heart. The last time we said goodbye, just before his journey to Nepal, we were in a rally in support of Rojava and against the Turkish invasion. There, when the rally was finished, Nano took a PKK flag to bring with him to Nepal. As he could not be with his comrades from Rojava during his journey to Nepal, he wanted to show them support from the mountain. Our last image of him [a picture of him with the PKK flag] from Himlung peak is more than a message, it is also the clearest expression of his nature and character; the mountain and the battle for freedom. Even under harsh conditions he always wore a smile, always thought about others, always with an open heart, always willing to help.
His immense love for the mountain and for freedom could be seen in his eyes, and heard in his words. It was his distinguishing feature. One of the articles he wrote for Rojavanoestasola magazine began: "I am Heval Çîya and I want to divulge what I learnt from my comrades in Rojava. All of them without exception loved and love the mountains. About me, there is nothing more to say. I just want to talk about my comrades there, the ones who stayed, about their mountains and their revolutionary struggle."
The long career of Nano in the mountains was not competitive, as he never sought rivalry. On the contrary, for Nano the mountains were like life itself, both a personal and a collective journey. The mountain is not only a place. It is the principle, an ideal, a value, a horizon, and also the end. This is the reason, because of how much we learnt from him, that we fondly called him "Mamoste" (teacher in Kurdish).
Nano wrote another article, called "Climbing in the society of the spectacle", in which he referred to a different way of understanding the mountain and where he quoted some words by Isaac Puente, a doctor, anarchist and naturalist, from his book "Alpinism". These words are important for us – the people who lived with Nano in the mountain- to remember. Through these words, Nano lived and shared the mountain, and together with him, we learnt to be, to find ourselves, and to live.
It reads as follows: "…they did not care about defining or adding adjectives to climbing or any other activity in the mountains. From their personal goodness, they simply listed its benefits. Being in the mountain, climbing, hiking, mountaineering… have benefits for human beings and for society, in different ways. On a physical level, through the exercise of the muscles, lungs and heart. On a psychological level, through the self-control, introspection, and willpower which shapes personality. Through nature, with vegetarianism (foods without toxins, drinks without stimulants), nudism and hygiene. Through health, escaping from corrupted and sick environments (so common in the cities) and returning to a natural life. Through morals, by understanding our humility and the nature of those around us. It is precious and this is how it is. All these are what we found outside and in ourselves, and it is beautiful and subversive."
Everybody who knew Nano knows that those morals, those ethics Nano had, left a mark everywhere he went, a mark in everybody who knew him, without exception. Nano was well-known in the Torrero and La Paz neighbourhoods of Zaragoza where part of his roots are, his family and friends. He was always involved in social and neighbourhood struggles, always on the side of the weak and those without a voice. He was well-known in anarchist circles too, not only in Zaragoza (his hometown) but all over the Spanish state. He also left an important mark on his journeys throughout Europe and Kurdistan, places from where his comrades have promptly shown us their support, have shared their pain, and have reminded us how admired he was in Kurdistan, and of their pride and joy at having known him.
Nano fought side-by-side with the Kurdish and Arab people in Rojava, in the YPG militias, together with other internationalists in the Anti-fascist International Tabur. Among other battles, he took part in the hard fighting to free Raqqa, where he lost comrades who he never forgot. In his own words: "Their sacrifice will not be forgotten. Their sacrifice has allowed Rojava to resist as a beacon of hope for all the people on Earth who love freedom, seek justice and dream of peace".
Now, Nano, one of the greatest revolutionaries and anarchists that our land has produced in recent times, rests. Together with his comrades from Kurdistan, together with the Hevalen Çem, Kawa Amez, Rustem Cudî, Firat, Redur, Mehmet, Dilbirîn Qamişlo, Avaşin Tekoşin, Mezlum, Argeş, Awaz Dilgeş, Saxewan, Şervan, Asiye Deniz, Avasîn Kesra, Adal, Diljîn Ararat…
Now, Nano, Heval Çîya, has reached eternity, where he always wanted to be; in the mountains. Together with all those who gave their lives and met death in the fight for freedom. But, what is more important, Nano is still alive in all our hearts, because as he used to say, the people around us help to shape our personality, and we are sure that everybody who met him, lives with a precious part of him inside them.
Comrade Fernando Sánchez Grasa, your light guides our way, rest in peace.
Şehîd namirin! (The martyrs are immortal!)

Letter 2:
Fearless and hopeful
In memory of our comrade Nano, Heval Çîya – anarchist, mountaineer, internationalist, and friend.
Nano, Heval Çîya, was a comrade who it is difficult to describe with words. We, the people who knew him, who shared life and struggle with him, know that it is difficult to honor him sufficiently with just words.
Heval Çîya, "mountain", was much more than a mountaineer, he was a mountain lover and a lover of the life which mountains harbor and create. The mountains were his home, his friends. Maybe this was the reason why he identified so strongly with the struggle of the Kurdish people, who say their only friends are the mountains.
Heval Çîya went to Rojava twice. The first time, in 2015, he participated for two months in a civil project, the building of a hospital in Kobanê. The second time, he fought as a YPG internationalist from autum 2016 until spring 2017. Heval Çîya fought during this period on the Al-Bab front, and he took part in the setting up of the Anti-fascist International Tabur within the YPG, together with other internationalist comrades
Heval Çîya was also an anarchist. An anarchist because of his kind spirit, from the heart, a socialist. He was an anarchist who brought to its logical conclusion the meaning of this ideology. He loved life, he loved people, all people, he loved the fight for justice. He always radiated love. Heval Çîya had a revolutionary personality, an uncommon one in these times. He always made you feel right and comfortable, thus you always wanted to be by his side and to keep on talking to him. His attitude alone was a powerful incentive to encourage you to become a better person and a better revolutionary. As he used to say, to be a revolutionary, to be kind, and anarchy, are all simply manifestations of the human tendency to kindness.
On several occasions he talked about having seen these qualities in his comrades in the Kurdistan revolution. The love and affection with which he would speak of the Kurdish hevals is indescribable. He used to explain Rojava and Kurdistan through the nature of the hevals, the comrades, and the values they passed on to society. When you asked him about the revolution taking place in Rojava, he would explain it through the lives and personalities of the comrade şehîds, their ethics and kindness. He followed in their footsteps, because he already had it in him, and he was an example for others, passing on these values at all times.
Heval Çîya used to live in the Aragonese part of the Pyrenees Mountains. He was strongly aware of the revolutionary tradition of resistance in the area, and had a deep connection with the struggle of the Basque people, the antifascist struggle, and the Spanish anarchist revolution of 1936. The Pyrenees were home to the antifascist guerrilla resistance and the crossing place of the internationalists who in 1936 brought us a better world in their hearts. Heval Çîya worked hard to show the connection between these revolutionary and internationalist traditions. He went all over the Pyrenees searching for Maquis routes, discovering their caves, and writing articles for mountaineering magazines which recovered these memories that fascism, as well as the Spanish democracy, have always tried to wipe out. He climbed constantly. Ever since he had been in Kurdistan, he would name the new climbing routes he opened after Kurdish martyrs. Thus, the Pyrenees now hold and are well protected by the memory of dozens of şehîds.
Nano, Heval Çîya, it still feels strange to walk around and think about you not being here anymore. You left an immense emptiness in these mountains, and in our hearts, which is going to be difficult to fill. But most of all, you left me with the certainty, more than ever, that internationalism and the revolutionary struggle is the only way. To continue in this way will be the best tribute.
I want to remember you with a poem which you used to often recall when you spoke about the şehîds in Kurdistan. 'Each comrade had a piece of the sun', you were a sun for us, you lit our way and warmed our hearts in what seemed like the coldest situations. You will always illuminate our night, this long night in which we walk forward without cease, until the sun finally comes up.
For all the şehîds and all the comrades who gave their lives for the struggle. See you in the mountains.
Şehîd namirin.
"Each comrade had a piece of sun/
In his soul/in his heart/in his memory/
Each comrade had a piece of sun/
And it is of this that I speak»
«I am not talking about the mistakes
which led us to the defeat/ for now/no,
I am talking about the arrogance/the blindness/
the militaristic delirium of the system/
I am saying that each comrade had a piece of the sun.»
which lit up his face/
which gave him warmth during the dread of night/
made him beautiful, brightening his eyes/
Made him fly/ fly/ fly/
Did those pieces of the sun go out?/
Now that the comrades have died?/
Did they not continue illuminating their souls/
their memories/ their hearts/ warming their heels/
their bones shot by the shadow?
Little sun that was going out thus/
You still illuminate this night/
In which we look at the night/
Toward the side where the sun rises.
– Juan Gelman, Note XIII
Viyan, December 2019