On July 16th of 2017, Heval Zafer Qereçox, fell fighting the gangs of Daesh. We want to give our condolences to the families and pay tribute to our fallen comarade. Şehîd nemirin!
Heval Zafer Qereçox, David Taylor from Florida USA
Today, the hevalên of YPG Press have announced the dead of Şehîd Zafer, internationalists volunteer in YPG. He felt fighting against Daesh, fighting for humanity, and a better world. We won't forget his sacrifice; we won't forget that he felt to give us a window of hope.
We send our thoughts to his family, to his friends and comrades.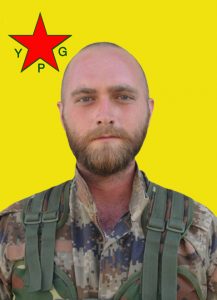 Code name: Zafer Qereçox
Real name: David Taylor
Mother's name: Rebecca
Father's name: David
Place of birht: Florida, USA
Date and place of martyrdom: Reqqa /16 July 2017
Şehîd nemirin!