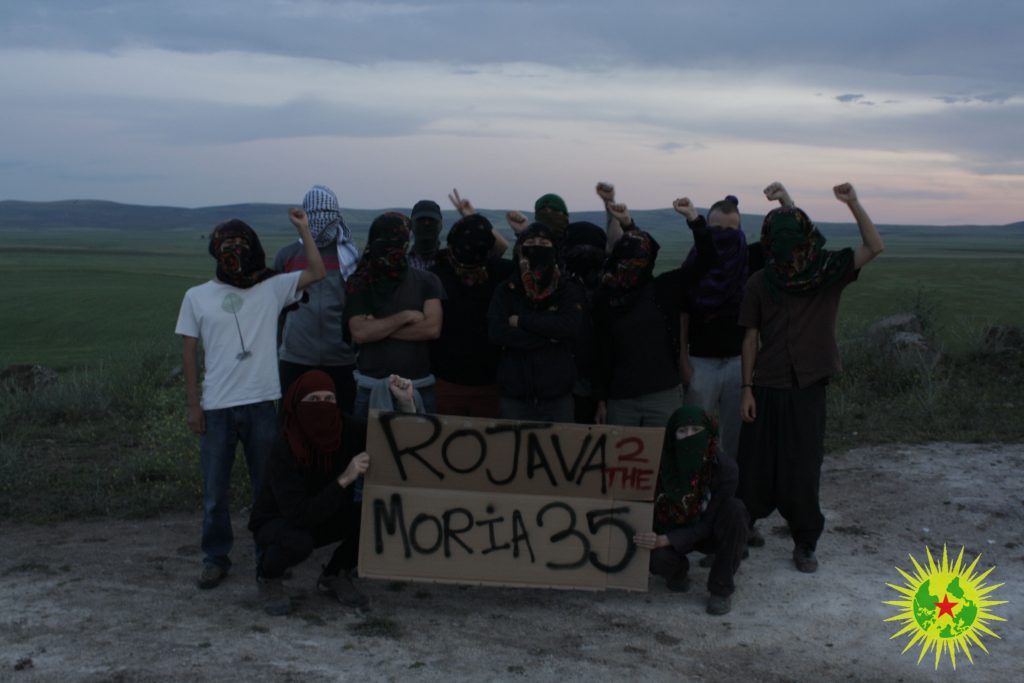 We, the Internationalist Commune of Rojava, stand in solidarity with the #Moria35 political prisoners. These refugees were subjected to police brutality, found guilty on false charges, and are currently imprisoned in direct contravention of a court order.
Their only "crime" was to engage in a peaceful demonstration outside the European Asylum Support Office on the 18 July 2017. Their demand was simple: freedom of movement for everyone who has been trapped on the island for more than six months, and humane living conditions.
Following the protest, squads of riot police invaded the "African" section of the camp, hurling stones, firing tear-gas and beating refugees at random. Victims were spat and stamped upon, subjected to racist abuse, and beaten inside the police station. Pregnant women were manhandled.
One victim lost consciousness for four hours, waking in hospital in critical condition. Others spent six days in jail without access to a doctor, arriving to court splattered in blood and with open, uncleaned wounds.
They arrested 35 men at random, 34 of whom were black – some of the officials who arrested these men later failed to identify their faces in court. This was an attempt to stamp out resistance to the European border regime through racially-segregated collective punishment.
All this happened behind closed steel doors, captured only on grainy long-distance lenses and the mobile phones of refugee media activists. The police beat refugees with impunity, then dismissed them as trouble-making rioters.
Following nearly a year's interment in inhumane conditions, the Moria 35 were brought to a sham trial. They were given only a couple of minutes each to testify, speaking through inept or entirely absent translators, as the trial proceeded in a language they did not understand.
Almost all were found guilty of rioting and handed a 26-month suspended sentence – even as the public prosecutor in Lesvos opens a case against the police for grievous bodily harm to twelve of the #Moria35.
24 out of the 35 remain illegally detained in Lesvos, despite the court having ordered their release. The asylum authorities attempted to deport 7 of the #Moria35, though they are witnesses in the ongoing investigation into police brutality, and were stopped from doing so at the very last minute.
The prosecution is part of an ongoing policy to criminalize and silence those who question Europe's hostile border regime.
Europe relies on Turkey to prop up the so-called EU-Turkey deal. It continues to deport refugees – including Kurds – back into the brutal violence of the Turkish prison system. As such, the European polity must turn a blind eye to atrocities committed by Turkey in Afrin, within the borders of the Turkish state, and across the region as a whole.
The European Union and its member states are as complicit in the maltreatment of the #Moria35 as they are in Turkey's ongoing assault on freedom and democracy in Rojava.
Solidarity from Rojava to the Moria 35! Free all political prisoners now!